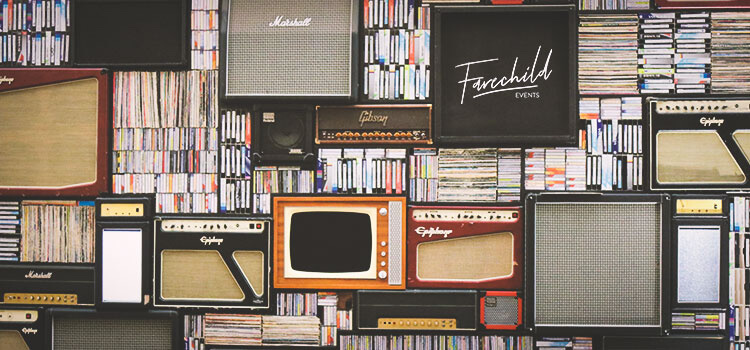 January 27, 2021
Music and Events: 6 Songs You Can Play at Almost Any Event
While many events will have a specific musical tone, these six songs can be played at nearly any event without disrupting the vibe nor alarming those of the elder variety. Music fuels the mood and can give guests something to connect with and talk about. So, without further ado, here are six songs that will have nearly everyone feeling groovy.
This song is the titular track from David Bowie's 12th studio album, "Heroes", which was released in 1977. It tells the story of two star-crossed lovers who are on opposite sides of the Berlin Wall. David Bowie's performance of this song at the German Reichstag in West Berlin has been regarded as a catalyst to the later fall of the Iron Curtain in 1989. Needless to say, if this track can help bring down a wall, it can certainly bring people together at your event.
"Never Tear Us Apart" by INXS 
From Australian rockers, INXS, this 1988 track is the quintessential blues rock love song. Never Tear Us Apart has an epic vibe of togetherness, this ballad is a celebration of unity and blending of differences. It is about standing together against all that life tries to hurdle your way – and depending on the nature of the event, this could prove deliciously meta.
"Reach Out I'll Be There" by Four Tops 
Another titular track, Reach Out I'll Be There was ranked on Billboard as the #4 song of 1966. Following the theme of the previous two songs, the song is about being there for those who you love. With a stunning instrumental riff, impeccable harmonization, and a sense of nostalgia for many, this track will bode well at most events.
"Come and Get Your Love" by Redbone
Come and Get Your Love was released in 1973 by Native American rock band, Redbone. The song reached number 5 in the Billboard Hot 100, making Redbone the first Native American band to reach the top 5. The song gained a resurgence in a new generation of pop-culture with its inclusion in the opening scene of Guardians of the Galaxy in 2014. With a funky baseline, an upbeat chorus, and a simple call to action to "come and get your love", this song will always be welcome at events.
"Sunglasses At Night" by Corey Hart
Sunglasses At Night is the archetypal 80's jam piece that can render nearly everybody in a state of total and complete groove. Released in 1984 off of Canadian singer Corey Hart's debut album, it rose to number 7 on Billboard's Hot 100 and had millions donning sunglasses long past sundown. The song combines an unflagging synthesizer hook, characteristic arpeggio, rock guitar, and lyrics that don't necessarily need to be, well, understood. This track will have nearly anybody rocking out and re-thinking when an appropriate time to wear sunglasses is.
"Can't Stop" by Red Hot Chili Peppers 
Can't Stop (2002) by the Red Hot Chili Peppers is a great track to have in your back pocket for when you want to kick the energy of your event up to an eleven. This is true even if a majority of the people who know and love this song don't know any of the lyrics beyond "Can't stop addicted to the shindig". The lyrics are notoriously confusing, with 520 words that don't make a lick of sense to the laymen, but that has not stopped people from losing their minds with excitement whenever they hear the opening riff.
There you have it! 6 songs that you can play at nearly any event that won't offend, confuse, or take away from the event you are trying to produce. Stay tuned for more advice in the arena of picking tunes for you event!